Hi everyone, I'm EricLostie.
Pokemon Titan is a spanish fangame, one of the most important fangames in the spanish scene. I started this project three years ago, and now it has 16 gyms, multiple sidequests and thousands of hours of content.

The three starters, the only fakemon the game has. When you start a New Game, you can choose to play with them or with the official starters. If you choose the late, the game will randomize you three starters between the 21 the franchise has.
Our adventure is setted in Aleteia, one of the two original regions this game has. Society starts to fear the Pokemon population increase, several political groups are arguing about humanity safety and his status regarding to Pokemon.
Arjes and Aleteia, each region has his own lore
​
A group of scientists, sociologists and intellectuals called Team Zenit will take advantage on this situation, starting an ambitious plan that will break human and Pokemon relationships as we know.
They look like thugs, but they are quite skilled



​
Your standar silent protagonists, nothing much to say

The asshole rival

The tsundere Pokemon professor

The badass Champion


A shady guy

A shady girl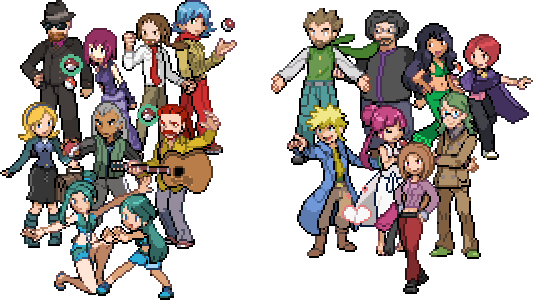 The 16 Gym Leaders, they will be part of the plot, helping you or even allying with the bad guys
​
Features
- 7 generations 100% no fake
- Multiple save files
- Graphically unimpressive, little or none lag
- All 793 Pokemon catchable (no Ultrabeasts)
- Fast speed button
- Well calibrated difficulty progression
Screenshots
​
***DOWNLOAD (SPANISH VERSION, ArcWisel is woring right now in the translation)***
DOWNLOAD
AricWisel
Poccil/FlameGuru/Maruno - Pokemon Essentials
PokemonCommunity (graphic resources)
Game Freak
M3rein (7ºgen files)
princess-pheonix (7ºgen graphics)
LunarDusk (7ºgen graphics)
Sparta (7ºgen graphics)
mej71 (Following Pokemon script)
JV (various scripts)
Whackahack (graphic resources)
Rayd12smitty (some autotiles)
Zeak6464 (graphics in general)
Lnate (OWs)
Lu Bu (OWs)
Joltik's Avatar
Joltik (some battlers)
Luka S.J (various scripts)
FL (some scripts)
No. 7 (Turbo script)
KleinStudios (various scripts)
Wesley (some tiles)
Forocoches (testing)
Last edited: